Chuka Riverside Camp
Chuka is a small village located on the West bank of the Mahakali river. To get there from the nearest road, involves a 5 to 6 hour walk so visitors should be reasonably fit ! On route, one has spectacular views of the Sharda Gorge with its steep grassy cliffs towering over ice blue water below. For those not so energetically inclined a pony trek can be arranged, or there is the alternative of arriving by raft.
Keen trekkers can reach the Camp from the West. This takes an extra day and involves considerable hill climbing and walking along ridges. The hard work, though, is compensated for by breathtaking views and scenery. If you should take this route the first night is spent at a camp site in the forest; the second day takes us to the village of Thak which lies a few thousand feet above Chuka. This is where the famous hunter and naturalist, Jim Corbett shot the " Thak Man Eating Tiger " over fifty years ago. We travel down on the same path on which the tiger met its demise ! At the base of the hills we head for the river and Chuka Riverside Camp.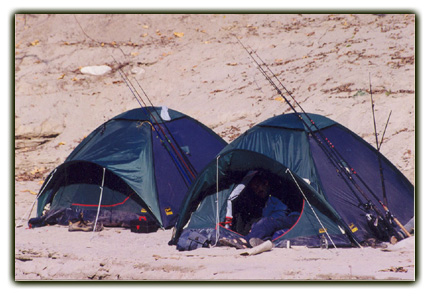 Quite a few animals live in the surrounding forests including Leopard and Deer; also many birds including Great Pied Hornbills, Blue Rock Pigeons, Fish Eagles, Duck, Waders and a variety of forest dwellers.
This area was written about by Jim Corbett * and we can show you some of the places mentioned in his books. Chuka is a good place to relax and enjoy nature and the beauty of the hills; for those feeling energetic there is plenty of exploring to be done with several interesting treks.
For the keen fisherman there is excellent Mahseer fishing. The best times for fishing are October and the warmer months of March and April. Any fish that are caught are photographed and weighed, before being returned to the river to live and fight another day!
Accomodation at Camp Corbett
Our Tents are on a high bank overlooking the Mahakali river . It is in a beautiful spot with rolling jungle clad hills behind, and views of Western Nepal in front. At camp, single and two man tents are provided along with bedding. All meals are included in the price.
How to get there...
CAMP LOCATION
SEASON
OCTOBER THROUGH TO APRIL COOLER MONTHS - NOVEMBER TO FEBRUARY
ACTIVITIES
At the moment Chuka Riverside Camp is only used for groups. However should you, or a party of friends,wish to visit,we will be happy to make arrangements.
A short tour is outlined below.
Itinerary Code- TCF7

Day 01 Mountain Quail Camp to Mahakali river
Day 02 Trek in to Chuka Riverside Camp
Day 03,04,05,06 At Chuka Riverside Camp Fishing and short treks
Day 07 Trek out and return to Mountain Quail Camp
Note:Delhi to Delhi add one day, and for information on longer trips please see our Fishing Itinerary section.