Mountain Quail Lodge - Pangot
Set amidst Oak, Rhododendron and Deodar forests, and overlooking the snow-clad Himalaya, this is an ideal getaway for those who wish to explore pristine mountain wilderness.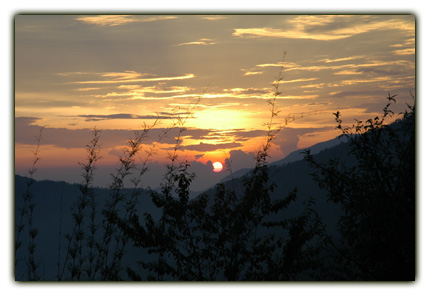 Nestled in Reserve forests, close to the hamlet of Pangot, Mountain Quail Lodge is situated at an altitude of 6500 feet (amsl). Dense Oak and Rhododendron forest cover the slopes directly behind and to each side; in front there is a range of jungle clad hills through which can be glimpsed the high Himalayas.. Looking west the land falls away to the plains providing a dramatic backdrop for the setting sun.
The Lodge itself sits at the highest point of our property and commands panoramic views of the the hills. Adjoining the estate is a forest that is full of birds and wildlife and in spring this woodland is a mass of red as Rhododendron trees come into flower.
Accommodation in the Lodge consists of four comfortable 'cottage style' suites. Each suite has a bedroom and bathroom, common sitting area as well as large outdoor patios. In addition to the Lodge we have three Mountain Log Cabins with attics and verandahs overlooking the forest, as well a few Safari Tents with attached baths.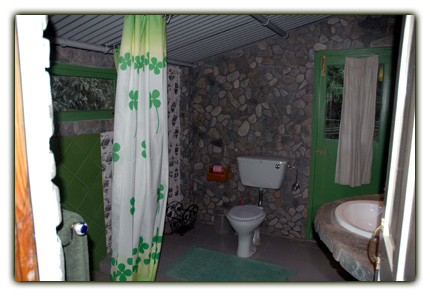 The dining room is on top of a small rise with excellent views all round. There are shaded sit outs in which to relax and enjoy the surroundings.
Our menu is designed to give guests a selection of Indian and Continental cuisine, including some special dishes by local Kumaoni chefs. Drinking water is piped from a mountain spring and filtered. Meals are included in the tariff.
Apart from the views, which are spectacular, there is much for the visitor to do. For Birdwatchers or those who wish to explore, the forests contain a variety of flora and fauna; animals include Leopard, Himalayan Black Bear, Yellow Throated Marten, Red Fox, Sambhar, Kakar (Barking Deer), Leopard Cat and Ghoral (Mountain Goat). There are also many birds such as Kaleeje, Chir and Koklas Pheasants, Minivets, Orioles, Redbilled Blue Magpie, Whitecrested Laughing Thrush, and Spotted Forktail. Birds of Prey include the majestic Golden Eagle as well as the Himalayan Griffon and Lammergeier…..to name a few.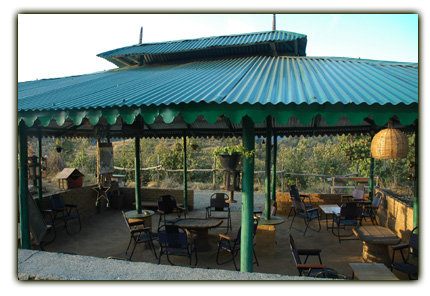 Several interesting Treks ranging from one to seven days can be undertaken from the Lodge. The trails are through thick forests and along high ridges which provide panoramic views of the Himalayas.
We can also arrange longer treks to the glaciers in Kumaon as well as overland exploration in Uttarakhand , Ladakh and Nepal.
Wake up to the song of the Whistling Thrush…..walk along quiet jungle trails or just soak in the sun……..
Seasons at Mountain Quail…..
Spring…. (Mid. Feb to April). Rhododendrons are in Bloom. Forest is alive with birds migrating back to the hills. Great Views of the Himalayas. Warm clothing required.
Summer…..(May-June). Shirtsleeves during the day….but still very cool, requiring light woolens during the evenings. Great time to escape up to the hills away from the scorching summer heat in the plains. Good time for Birding and Jungle walks.
Monsoons…(July to September). Dramatic Sunsets, mist rolling in and lush green. Jungle waterfalls. Must carry waterproofs for walks. Woolens required. Can hear the nearby gushing mountain stream from the lodge.
Autumn…(October-November). Forest changes colour… hues of orange, rust, brown and green. Great views of the Himalayas. Warm clothing required. Good time for walks. Birds migrate down from the higher reaches.
Winter.. (December to early Feb.) Fantastic Himalayan Views, Great time to enjoy the cold clime….and soak in the sun. Heavy woolens required as it could snow. Hot water bottles and Bukharis in the rooms keep you warm.

Outdoor Activities:-
Jeep drives for Birdwatching , Wildlife viewing & Photography.
Jungle walks and Day Hikes
Trekking and Camping
Mountain Biking, Horse Safaris
Rock Climbing, Suspension River Crossing ,Rappelling
Outbound Teambuilding
Outdoor Survival
Overland Exploration/Jeep Safaris in Uttarakhand, Ladakh and Nepal.
Our basic three day trek, through thick forests and along ridges with panoramic views of the Himalayas….. is outlined below.
Itinerary Code- TBR 3

Day 01 Mountain Quail Camp to 'Tawny Peak' Camping on a high ridge.
Day 02 After watching the sun rise over the snow peaks, continue trekking to the hill shrine at Badansthali. Camping under the stars..
Day 03 Walk through Beautiful Oak forests to Kunjkharak. Pick up by jeep and return to Mountain Quail Camp
How to get to Mountain Quail Lodge (Pangot)...
By road from Delhi the distance to Pangot is approximately 300 kms. Via Hapur (bypass) Moradabad (bypass), take a left straight after the bypass towards Corbett and then right after 10 kms. to Tanda, Bazpur, Kaladhungi (Corbett Museum)- take left towards Nainital. At Bara Pathar before Nainital take a left along the Kilbury Forest road. Mountain Quail is situated on the left side about 12kms. from Baara Pathar and half a km. short of Pangot village. (This way one does not enter the town of Nainital and this route is shorter).
Alternatively one can travel via Hapur (bypass), Moradabad (bypass), Rampur, Bilaspur, Rudarpur, Haldwani, Kathgodam, Nainital, Baara Pathar and Mountain Quail, Pangot.
Nearest Railhead is at Kathgodam , close to Haldwani. From there it is 45 kms. to Mountain Quail Lodge via Nainital.
There is a daily overnight train from Delhi to Kathgodam (Ranikhet Express) and the Sampark Kranti (day train) operates in peak season . Taxis are available at the station or we can arrange to pick you up.
From Nainital – Mountain Quail is approximately 12 kms. along the Kilbury Forest road and half kilometer short of Pangot village.
For Bookings and more details please contact us:
www.blazeatrailadventures.com
blazeatrail@hotmail.com
Tel:- + 91 98370 77537 / + 91 94113 20948 / + 91 5942 216060 / + 91 93598 53453